How to Sell a Business – What Matters
Selling a business  can be a difficult process.  Knowing How to Sell a Business and what matters greatly increase your chances of a successful Sale and transition.  Someone may walk in your office one day and offer you 100% cash  at an elevated valuation but that is not very likely at all.  I had owned a business in a very fast growing industry and I was presented with a couple very strong cash offers at fairly lofty valuations but these offers where based on the growth curve of the industry and market conditions overall.  I wasn't ready to sell my business at that time and several years later when I was ready to sell,  the process of selling  the business and  finding the right buyer and transition for my business  presented a much different challenge.
Ive been involved with the business acquisition  process for over 25 years as a Business Buyer of Multiple businesses, a business Seller, and as a Business Broker assisting others.  I find the following to be important when both Selling a Business and Buying a Business.
The quality of the business is important- "We are the highest rated Window Washing business in Jacksonville"
The quality of the industry is important – Are you in a growth industry? or a Mature  industry ?    "A rising tide raises all ships"
The quality or the overall marketplace we all conduct our business in is important. During our recently experienced recession obtaining money to finance an acquisition was difficult and overall number of business sales were down significantly.
The timing of when your business may be best ready to sell and when you as a business owner are ready to sell may not coincide.
As you can see some aspects that affect the likelihood of successfully selling your business may reside out of your immediate control.  But knowing more about the process, How to Sell a Business and What Matters, and the current market can only aid in your decision making process.
A Recent survey of fellow business broker professionals involving 100's of business broker professionals denote  consolidate information regarding Buying a Business in South Carolina, Florida and the entire US as well as Selling a Business in South Carolina, Florida and the US.     Topics in this survey included information regarding who is likely to buy your business,  why will they buy your business and what will they pay for your business.  All businesses have differences yet many businesses share similarities:
Why Will You Sell Your Business?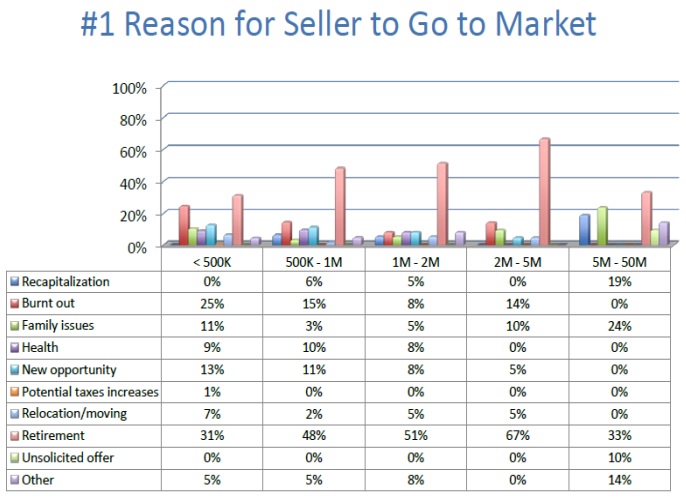 Who will Buy your Business?
Why will they Buy your Business?
What will they Pay For Your Business?

The amount that Buyers are paying for Businesses ( as a multiple of earnings or cash flow  has remained fairly constant over the last few years.)
SDE- Sellers Discretionary Earnings
EBITDA – Earnings Before Taxes Interest Depreciation and Amortization
So, Timing, knowing who you may best market your business to, what sort of value expectations  you can expect all affect the likelihood of a successful business sale and transition.  There is a lot to knowing How to Sell a Business but getting ready to sell your business and knowing  when you are ready are  are a couple of the very important 1st steps.
Above data  provided by survey of over 300 business brokers throughout the USA coordinated thru International Business Brokers Assn and M&A Source and Graziadio School of Business.
Looking to Sell a Business in South Carolina Florida or SE USA or looking to Buy a Business in South Carolina Florida or SE USA please contact me Scott M Messinger  at Scott@GatewayBusinessAdvisors.com or directly at   for more info see www. SellaBusinessAdvisors.com